Higher bond yields to test AI rally; Can Just Eat also deliver profits?
Peter Garnry
Head of Equity Strategy
Summary: The hawkish message yesterday from the Fed has pushed longer-end US Treasury yields higher causing downside pressure in equities. Especially AI-related stocks such as Nvidia will be tested as its high growth expectations and high equity valuation could come under pressure from these higher bond yields. We also take a look at Just Eat which is the stock among the most traded European stocks by Saxo clients with the highest potential upside based on the sell-side consensus price target.
Key points in this equity note:
Equities are under pressure from the move higher in longer-end US Treasuries and the next couple of trading days will determine whether the market believes the hawkish Fed message.
AI-related stocks including Nvidia are the real test under higher US interest rates due to their excessive growth expectations and high equity valuations.
Just Eat is good at delivering fast food to consumers but not so good at delivering profits to shareholders. Despite troubles in lifting profitability, analysts remain bullish on the stock.
Fed's 'higher for longer' message to test AI stocks
Powell delivered a hawkish message yesterday amid a challenging landscape for monetary policy due to the resilient US economy, higher energy prices, and potential wage pressures exemplified by the UAW wage negotiations. The US 10-year yield pushed to a new closing high for the cycle at 4.41% and has extended the move today to as high as 4.44% ahead of the US equity market opening. SOFR futures June 2024 (are essentially the contracts used to price Fed rate policy in the future) traded lower yesterday (higher policy rate than priced the day before – the market is still pricing several cuts to the policy rate in 2024) but is attempting a rebound today. Where the SOFR June 2024 contract goes will tell a lot about whether market participants believe the Fed message.
If long-end US bond yields continue higher it will likely put additional pressure on equities, especially cyclical sectors, and AI-related stocks could also suffer heavily given their high equity valuations making them vulnerable to the 'higher for longer' narrative. Outside the world of US interest rates and monetary policy, we have lately observed cracks in Nvidia shares which were down 3% yesterday and are indicated down almost 2% in pre-market trading. A break below 400 in Nvidia shares could ignite a sentiment shift across all AI-related stocks.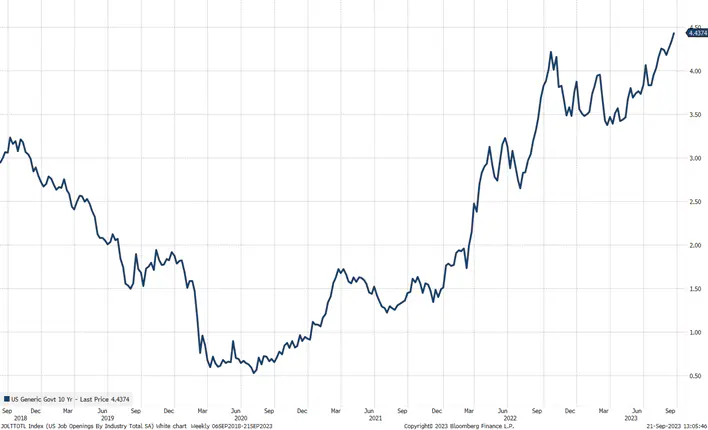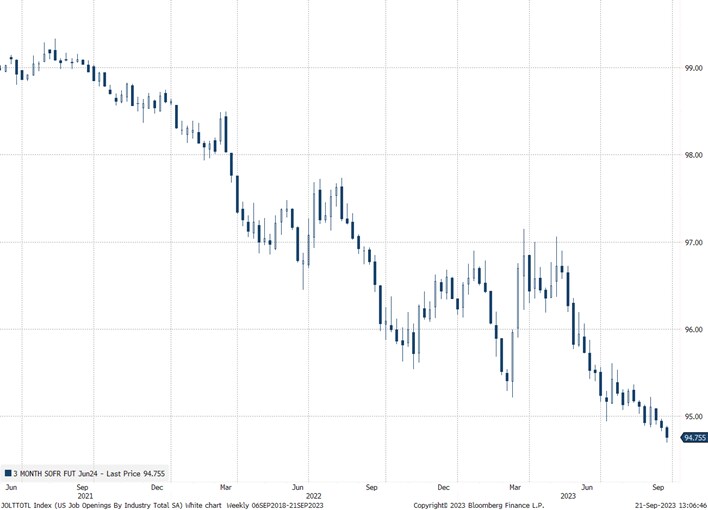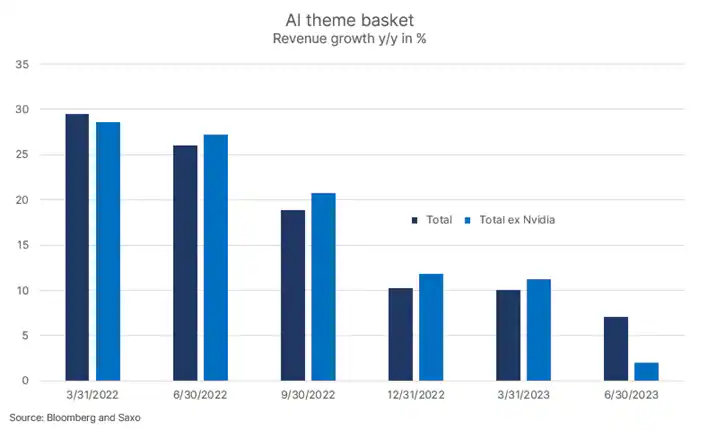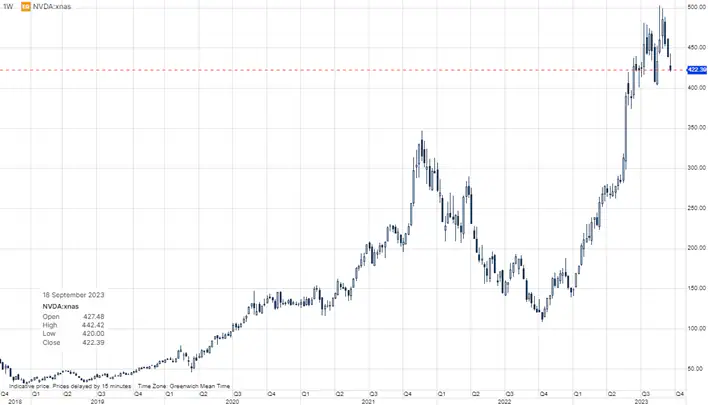 Analysts have faith in Just Eat to deliver those profits
Just Eat, like the rest of the e-commerce and delivery stocks, did extremely well during the pandemic, but since the reopening of society growth rates have come down hard. Just Eat went from 1H 2022 revenue growth of 57% y/y to 2% in H2 2022 and -7% in 1H 2023. As revenue growth has come down the take-away delivery company has focused on reducing operating expenses but the company still has difficulties generating operating profits.
However, despite delivery of profits analysts remain very bullish with the consensus price target being 108% above the current price suggesting the biggest upside potential among Saxo's most traded European equities. Part of the upside catalyst is the divestiture of Grubhub, but this sale relies heavily on the fee caps put in place during the pandemic are lifted. A 19 September ruling means that Just Eat and other delivery companies can pursue a legal battle against New York City to remove the pandemic fee caps. It is estimated that those caps reduced EBITDA by around €400mn during 2020-22.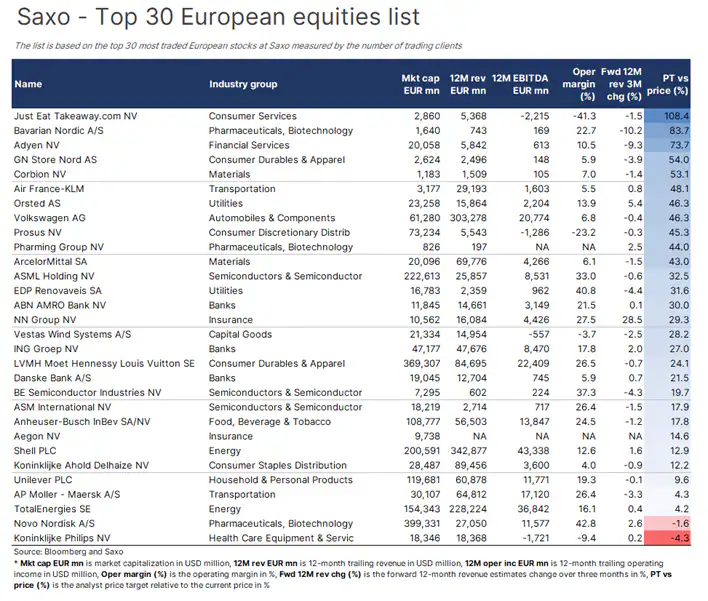 The information in this article should not be interpreted as individual investment advice. Although Hugo compiles and maintains these pages from reliable sources, Hugo cannot guarantee that the information is accurate, complete and up-to-date. Any information used from this article without prior verification or advice, is at your own risk. We advise that you only invest in products that fit your knowledge and experience and do not invest in financial instruments where you do not understand the risks.