The Growing Demand for Copper: A Long-Term Investment Opportunity
Exploring the Surging Demand for Copper in the Commodity Market
In the dynamic world of commodities, where trends ebb and flow, one particular resource stands out for its promising future: copper. Often overshadowed by oil and precious metals, copper is emerging as a key player, especially in the context of the energy transition. In this blog post, we'll delve into the rising demand for copper, its significance in the evolving commodity market, and the various investment avenues it offers.
The Surge in Copper Demand: A Glimpse into the Future
With the energy transition driving major shifts across industries, copper is poised to play a pivotal role. This essential metal is not only crucial for traditional applications like electrical wiring and infrastructure but also for emerging technologies like electric vehicles and renewable energy systems. The projection of a 50% increase in copper demand by 2040 highlights its immense potential.
Investment Insights: Exploring Copper's Investment Avenues
1. Copper Futures: A High-Potential, High-Stakes Game
For those willing to dive into the complex world of commodities trading, copper futures present an intriguing opportunity. However, caution is advised, as these contracts require a deep understanding of market dynamics. Short-term future prices may differ significantly from long-term projections, making it essential to tread carefully.
2. Exchange-Traded Commodities (ETCs): A Convenient Option
Investors seeking a more straightforward route can explore Exchange-Traded Commodities linked to copper. These ETCs offer exposure to copper's price movements without the need to navigate intricate futures contracts. WisdomTree's Copper ETC, for instance, provides a convenient way to invest in this commodity.
3. Copper Mining Companies: Balancing Risk and Reward
Diversifying your investment strategy is key, and copper mining companies can offer a stable yet potentially lucrative option. Unlike speculative exploration companies, established copper mining giants boast steady income streams and operational stability. Companies like BHP, Freeport, and Rio Tinto are among the major players to consider.
Analyzing Key Players in the Copper Market
1. BHP: Riding High on Stability and Profitability
As the largest mining company, BHP combines profitability with stability. Despite a slightly reduced profit projection due to external factors, its earnings per share remain resilient. The collaboration with Rio Tinto to develop a new mine underscores the trend of strategic partnerships in the sector.
2. Freeport: Navigating Complex Terrain
Freeport's recent achievement in opening a mine in Mongolia demonstrates their resilience in overcoming operational challenges. While the stock has faced pressure this year, the analyst consensus remains cautiously optimistic, emphasizing the strong buy recommendation.
3. Teck Resources: Focusing on Copper's Potential
Teck Resources' strategic decision to concentrate on copper bodes well for the company's future prospects. Their dividend yield, although not the highest, adds a layer of investor appeal. With ongoing developments in Chile and partnerships with industry peers, Teck Resources remains a contender in the copper market.
4. Southern Copper Corporation: A Prudent Investment Option
Staying on par with peers in terms of valuation, Southern Copper boasts solid reserves and earnings per share. With a favorable dividend yield of 4%, it stands out as an attractive choice for investors seeking income.
5. Rio Tinto: A Diverse Giant with Growth Potential
With a diverse portfolio beyond copper, Rio Tinto offers a well-rounded investment opportunity. Their robust dividends, coupled with strategic investments and a broad resource base, present a compelling long-term prospect.
Conclusion: Navigating the Copper Investment Landscape
In the ever-changing landscape of commodities, copper emerges as a beacon of opportunity, driven by the energy transition and infrastructure demands. Whether you choose to trade copper futures, invest in exchange-traded commodities, or back established mining companies, the copper market holds potential for substantial gains. By carefully evaluating your investment strategy, diversifying your portfolio, and staying abreast of market trends, you can position yourself to capitalize on the promising future of copper.
For a more detailed exploration of investment strategies and the evolving copper market, connect with our experts to navigate this exciting investment landscape. Remember, knowledge and research are your strongest allies in the pursuit of long-term gains.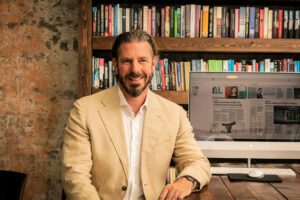 The information in this article should not be interpreted as individual investment advice. Although Hugo compiles and maintains these pages from reliable sources, Hugo cannot guarantee that the information is accurate, complete and up-to-date. Any information used from this article without prior verification or advice, is at your own risk. We advise that you only invest in products that fit your knowledge and experience and do not invest in financial instruments where you do not understand the risks.