Strategy: Trade FX using options
If you know how to use options and FX. You could just have the best of both worlds!
Strategy's goal: 
Level difficulty: 
Activity level:
Time Horizon: 
Products: 
Trade profit
Expert
Very active
Short term
Options
Let's start with a question. What is the largest financial market in the world? The foreign exchange or forex market is, of course, the largest financial market in the world. Bigger even than the stock market, with a daily volume of $6.6 trillion, according to the 2019 Triennial Central Bank Survey of FX and OTC derivatives markets.
Options are, as Hugo likes to call them, 'financial miracles.' As you may know, you can buy, sell, or do both simultaneously. 
In this "topic," Hugo highlights clear examples of how to implement FX options in your trading strategies. For a more fundamental explanation of how Options work, go to Hugo's online investment education platform www.academy-for-investors.com
How to buy USD with a discount?
How to buy USD with a discount?
Here's an example: the current EURUSD is 1,2000. You anticipate that the EURUSD will not fall below 1,1800 for the next three months*, but you are also willing to buy for a value of € 100.000 in USD.  In this case, you can sell a Vanilla Put for the 5th of August 2021* this action obliges you to buy USD for a price of 1,18 for a total value of € 100.000. In return, you receive a premium of $ 511.
Please note that in the order ticket, you must select the Exercise method. If you opt for Spot and the EURUSD quotes below 1,18, you will get an FX position in your portfolio EURUSD. You will receive a cash settlement on your account if you opt for cash. 
*Date of writing 05/05/2021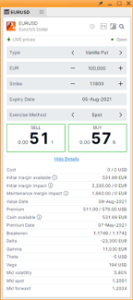 You have an FX position Gold long XAUUSD and want to generate some extra income!
In that case, you can sell call options monthly, generating additional income on your gold position.
Let's say Gold is now 1770 USD per Oz. You own a position of 100 Oz. You would not mind selling this position at 1850 USD. You can then sell the Vanilla Call for 100 Oz. The strike price of 1850 obliges you to sell your position for 1850 USD. In return, you will receive a premium, in this case, USD 850.
As you already have the spot position, you must select the Exercise method. So you will deliver your position if the gold price exceeds 1850 per Oz.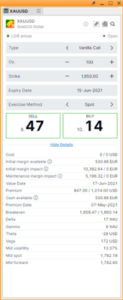 Disclaimer
The information on investment products is for general information and is not intended as advice. In spite of the fact that Hugo Investing takes care of the compilation and maintenance of these pages using sources deemed reliable, Hugo Investing cannot guarantee the accuracy, completeness and actuality of the information provided. If you use the information provided without verification or advice, you do so at your own account and risk. We advise you to always check any transactions and not to invest in financial instruments that you do not understand the risks. No rights can be derived from the information on these pages.